Welcome to City Dog!
---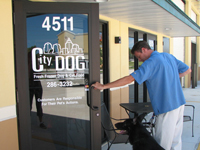 In honor of our pets, we at City Dog would like to provide you with the same nutritious meals that our dog thrives on.
We are fortunate to have had the time and patience to prepare daily meals for our dog Scout. We also know that the luxury of time is not something everyone has. So we developed a way your pet can enjoy the same natural and nutritious meals in the same time it would take for you to open a can of processed pet food.
City Dog foods are independently laboratory tested. We are the only Florida state licensed (Cert. #1235), A.A.F.C.O. approved, raw dog and cat food manufacturer in the state of Florida.
City Dog frozen foods are veterinarian recommend.
Thank you for joining us and taking the pledge to provide your dog or cat with excellent nutrition. You will be glad you did.