City Dog Baked Treats
---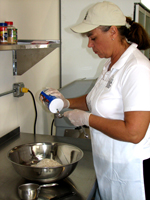 We also make fresh baked dog and cat treats. These wonderful baked goods are made daily. The aroma of our bakery is enough to drive your pet crazy. Bring your pet in for a sample of our homemade treats.
Saturday, 9 am - 3 pm. No reservations required
Peanut Butter Pups
We love to watch our dog lick his chops as he savors the taste of healthy spoon of peanut butter. So we created a treat that is so tasty, it would stick to his chops, ribs, dreams, memory.....you get the picture! Warning-- Once your dog bites into a fresh baked Peanut Butter Pup, they will never look at a store bought dog biscuit the same again. Made with creamy peanut butter and a touch of rich brown molasses. We use ground whole wheat and oats to make them crisp.

Rocky Liver Crunch
My pet won't eat treats! Yeah! We hear it all the time, until their pet smells the rich roast beef aroma coming from a bag of our Rocky Liver Crunch. We delicately pouch western beef liver for it's sensational aroma and flavor. Your pet will stop in his tracks and come running, when you open a bag of these tasty morsels.

Chicken Butter Bites
Does Chicken livers gently saut'ed in real butter with a pinch of French gray sea salt sound good? Your four-legged friend will think so. Your pet won't have to catch the red eye to France to find these gourmet delights, just stop-by City Dog and save those frequent flier miles.

Scout Bar Cookie
Made with creamy peanut butter. This crisp cookie is a full 9 inches in size. It's the biggest cookie in town! Another great gift idea that won't break the bank. Guys does your girl have a dog? Forget the flowers, bring her first love a Scout Bar and see the smile you've been looking for.